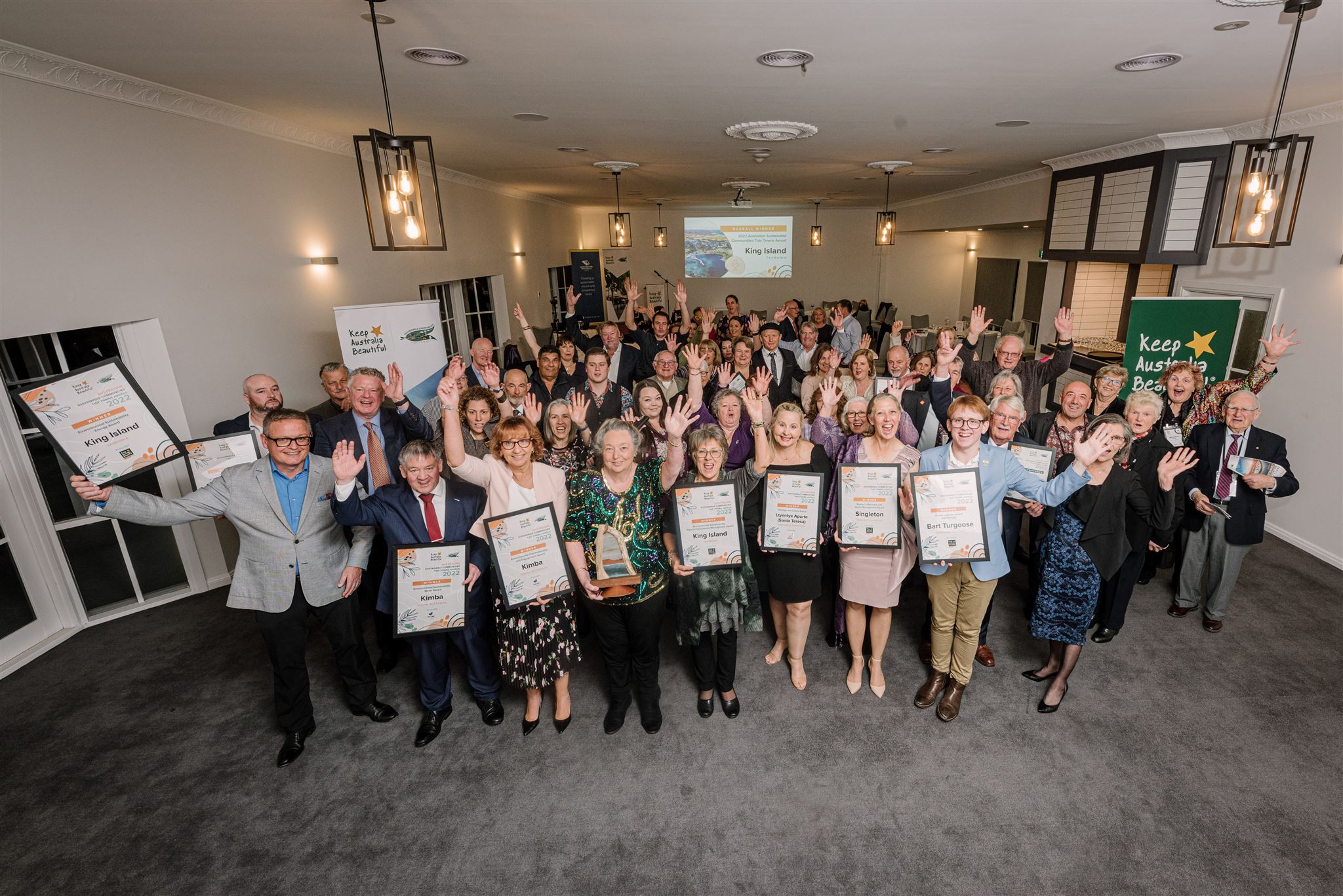 Every year Keep Australia Beautiful hosts the Australian National Sustainable Communities Tidy Towns Award, where we celebrate all of the towns making instrumental changes to improve their local sustainability and reduce their enviornmental impact.
Last years worthy 2021 Sustainable Communities Tidy Towns winner – Hastings, kindly hosted this years event on 30 July at Toscano Italian Kitchen,  where we proudly announced the 2022 winner – King Island!

King Island is rich in history, with shipwrecks, lighthouses and jagged reefs, bountiful with long stretching sandy beaches and lush green pasture. This tiny piece of paradise is idyllic in every aspect.
Nonetheless, King Island community and Council are also realistic, acknowledging their future challenges of managing growth, enhancing the environment and balancing services.
King Island demonstrates an enormous passion for their unique environment and ancestry, with the community exemplifying the concept of sustainability. It is a resourceful place, with the island's services mostly run by volunteers.
The King Island community lead by example and embrace their quest to become more sustainable in the future.
YOUNG LEGENDS – GROUP WINNER:
THE GREEN TEAM, King Island, Tasmania
To focus on environmental education and sustainability, over a decade ago students joined together to establish their Green Team. From humble beginnings, the Green Team has grown to become a significant environmental group on the island. In 2022, over 50% of the school population volunteered to join the team.
Due to the team's initiative and enthusiasm, King Island is now a better place to live. Proudly, students have been the driving force behind this success. The team identified litter as an island problem, and well before single-use plastic bags were banned, the students lobbied local retailers to implement their own ban. This achieved a voluntary ban since 2011, preventing an estimated four million plastic bags being distributed on the island.
The Green Team members also organised clean-up coast days. While snorkelling, the students have removed submerged litter and were responsible for removing a massive ghost net that had been cast on a remote part of the coast. Resource Recovery has also made the Green Team's agenda. After visiting the local waste management facility, the team discovered that glass bottles were being buried in landfill. The team made a formal presentation to the Council who agreed to crush and reuse glass. In six months, more than 100,000 bottles were diverted from landfill, with crushed glass now used in the island's roads construction.
The group is now focusing on recycling cardboard into compost. Fire briquettes and tyres will also be turned into playground landscaping features. The Green Team are 'legends' in their own community, but they are also admired for their work in many organisations.
ENVIRONMENTAL SUSTAINABILITY – ENERGY WINNER:
KING ISLAND, Tasmania
Wave Swell Energy (WSE) is an innovative Australian based renewable energy technology company that selected Grassy Harbour on King Island as the location for deployment, trial and operation of its world leading propriety technology that converts wave energy into electricity.
WSE's technology produces clean, sustainable electricity from waves, and in cooperation with Hydro Tasmania, the electricity is exported to the grid to power homes and businesses on King Island. The "UniWave 200" wave energy converter unit was installed at Grassy in January 2021 and was commissioned in June 2021.
The electricity generated from wave energy on the unit complements Hydro Tasmania's existing hybrid grid, further diversifying the renewable resources and reducing diesel consumption on King Island. This award recognises leadership and innovation in energy conservation and management in the face of a changing environment. In addition to providing clean and cost-effective electricity to remote communities, the WSE technology can also support communities around the world, as well as address the threat of rising sea levels and coastal erosion.
The Intergovernmental Panel on Climate Change – United Nations body for assessing the science related to climate change – recently highlighted the requirement for investment in infrastructure that enables adaption to the effects of climate change as well as seeking to mitigate climate change through decarbonisation. When lined side-by-side or incorporated in a seawall or breakwater configuration, WSE units can form a barrier to rising sea levels and further coastal erosion.
ENVIRONMENTAL SUSTAINABILITY – NATURAL ENVIRONMENT MANAGEMENT WINNER:
King Island, Tasmania
One of the many ways in which to monitor the health and sustainability of an area and its natural environment is by observing birds as an indicator species.
The King Island Landcare Group began the 'Wings on King' project – an island-wide bird monitoring program – with two aims: To track bird species on King Island as a method of monitoring the island's long-term sustainability; and to promote King Island as a bird tourism hotspot to diversifying the island's tourism.
The first 5-years of data collection was completed in spring 2021, and was professionally analysed by Ross Analytics, Tasmania, revealing that 129 surveyors participated in the project, dedicating 2,952 hours to the surveillance, and
recording 680 individual bird species.
The data obtained from the 'Wings on King' project and by other organisations, in particular BirdLife Australia, has shown that King Island is experiencing some concerning environmental degradation issues by identifying three critically endangered and two endangered bird species. As a result, a King Island Bird Conservation Action Plan has been set up to manage the recovery of these species. The plan is managed by a team of Government, NGOs, the local community and expert scientists in the recovery of bird species and their habitats.