NATIONAL VOTING COMING SOON… (JULY/AUGUST 2023)
A huge THANK YOU to all the schools who participated in this years Paint Australia Beautiful and a massive WELL DONE to all our amazing little artists around Australia! The quality of entries were exemplary, we received so many colourful designs celebrating the environment and sustainability so it was tough narrowing it down and then taking TWO Finalists per State / Territory to a public vote.

This shortlist was selected on a number of criteria, but predominantly the unique creativity displayed in representing the school's local natural environment and the environmental messaging and story behind the mural and what it meant to the school and community.
Voting was SO CLOSE but here are the very deserving WINNERS you voted for…
These winning schools will now get the CHANCE to take out the Overall National Prize of $2000! (see below)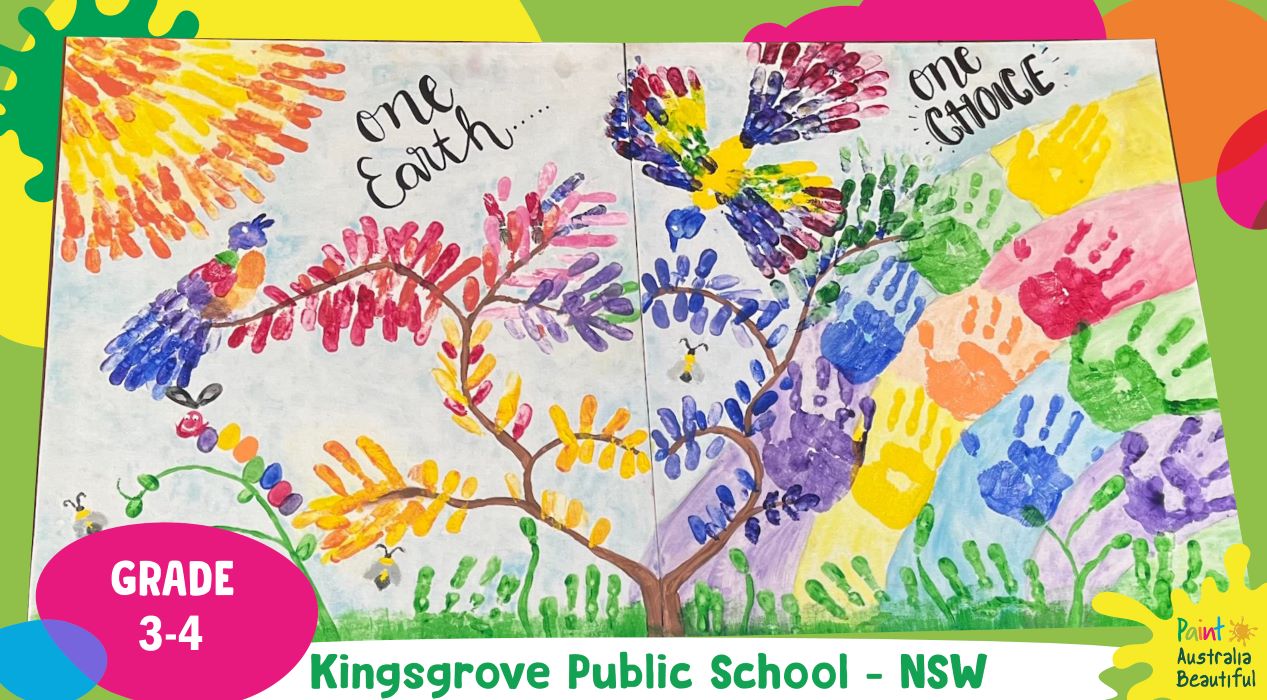 KINGSGROVE PUBLIC SCHOOL (GRADE 3-4): Each student was able to contribute to the initial design process as well as the final coloured mural. Students selected paint colours and used their fingerprints in unique ways to create an incredibly intricate design boasting a heart shaped tree in the middle, multicoloured fingerprints as leaves coming off the branches and fingerprints for the grass in line with the tree. Students used their imagination and problem solving skills to create amazing animals such as bees, birds and caterpillars out of their fingerprints. They then decided on an environmentally important message: "One earth, one choice" highlighting the importance of caring for and catering to the needs of all environments as a whole to maintain our earth and be able to live the lives we lead. This mural signifies our connection to each other, our land and our school community through the vivid colours, meaningful imagery and crucial message.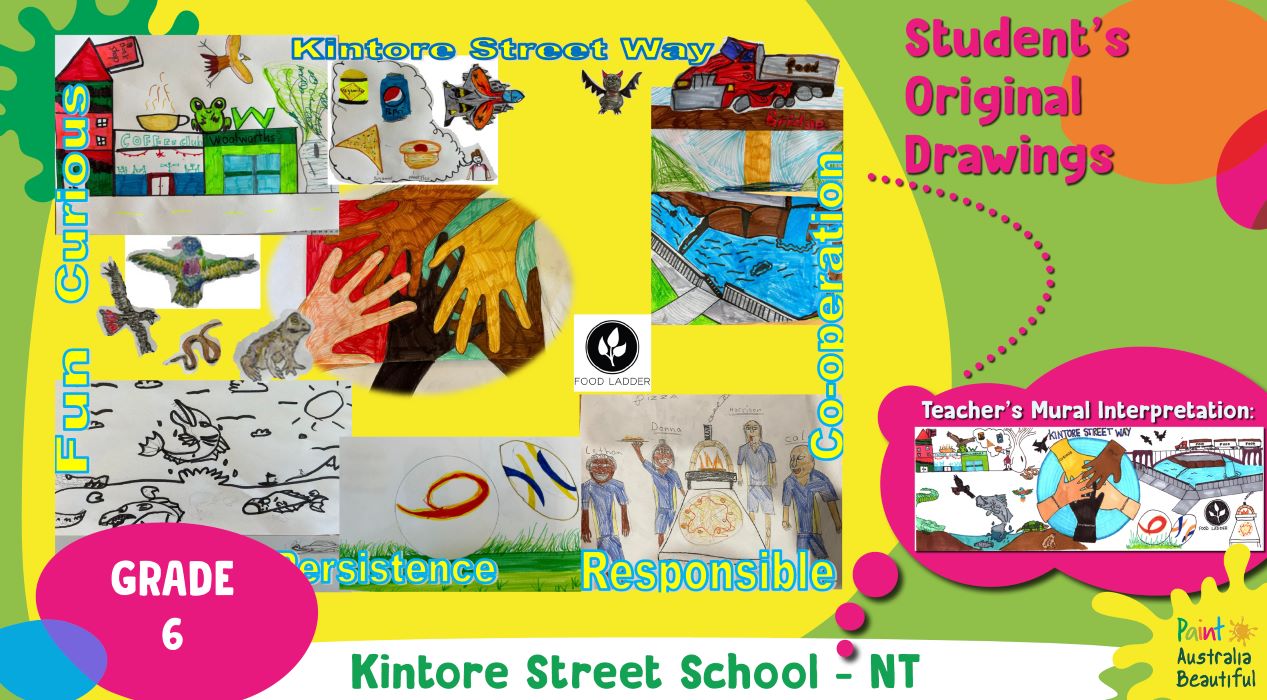 KINTORE STREET SCHOOL (GRADE 6): We are a special needs school located in Katherine Northern Territory. Our core values include having fun, showing curiosity, responsibility, cooperation and persistence. Students are involved in recycling cans and learn sustainability through the garden to plate initiative offered by our Food Ladder greenhouse, vegetable garden and pizza oven. Many of our Indigenous students have totems that they have incorporated into the design with the Katherine Gorge, Hot Springs and Low Level being places where many of our students go fishing and swimming. Students are also involved in their local community through sports and other activities. The hands are a symbol of our multicultural town and closing the gap between cultures. The town is always known to get together to support each other through the good and difficult times.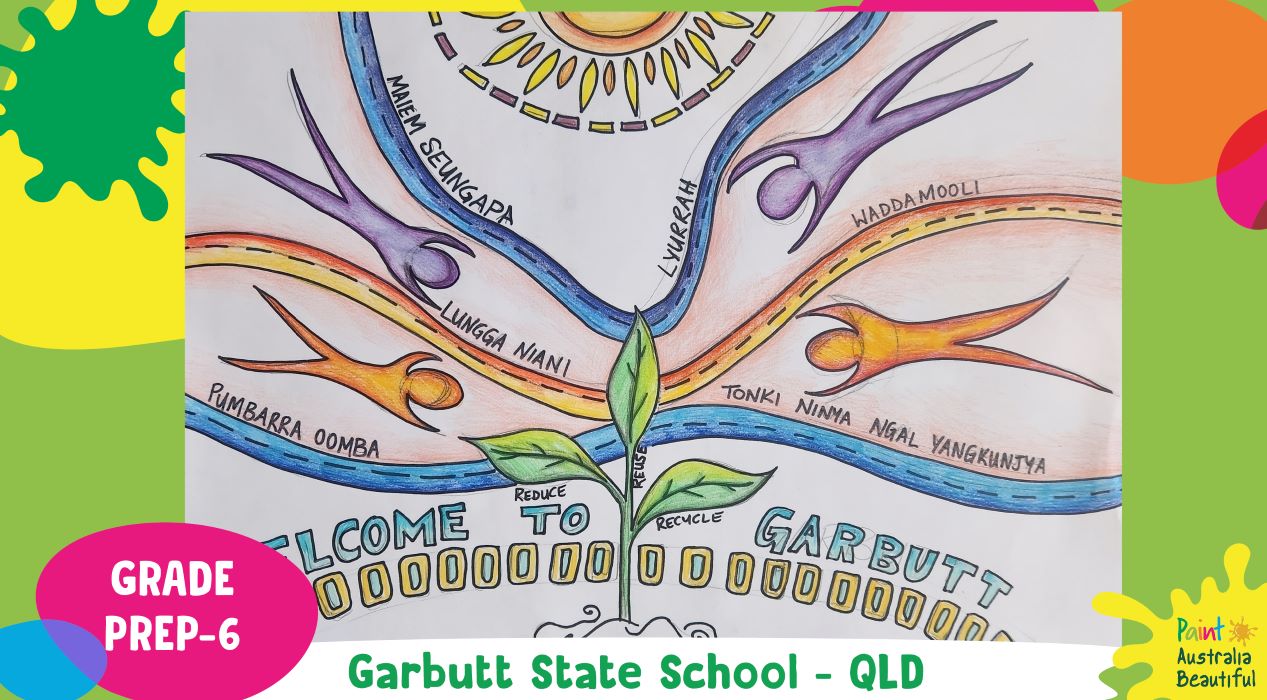 GARBUTT STATE SCHOOL (PREP-6): The words in the design mean welcome in various indigenous languages from the surrounding areas of our school. As a small school it was important that we included a welcome message into the design as we further develop a strong relationship with the surrounding community of the school. The design represents the unique indigenous cultures at our school and the people represent the students working with community to create a sustainable future. The plant is the focus of the design as the students have just been learning about and assisting with the school sustainability program where they are creating compost from scraps of lunch for our bush tucker garden.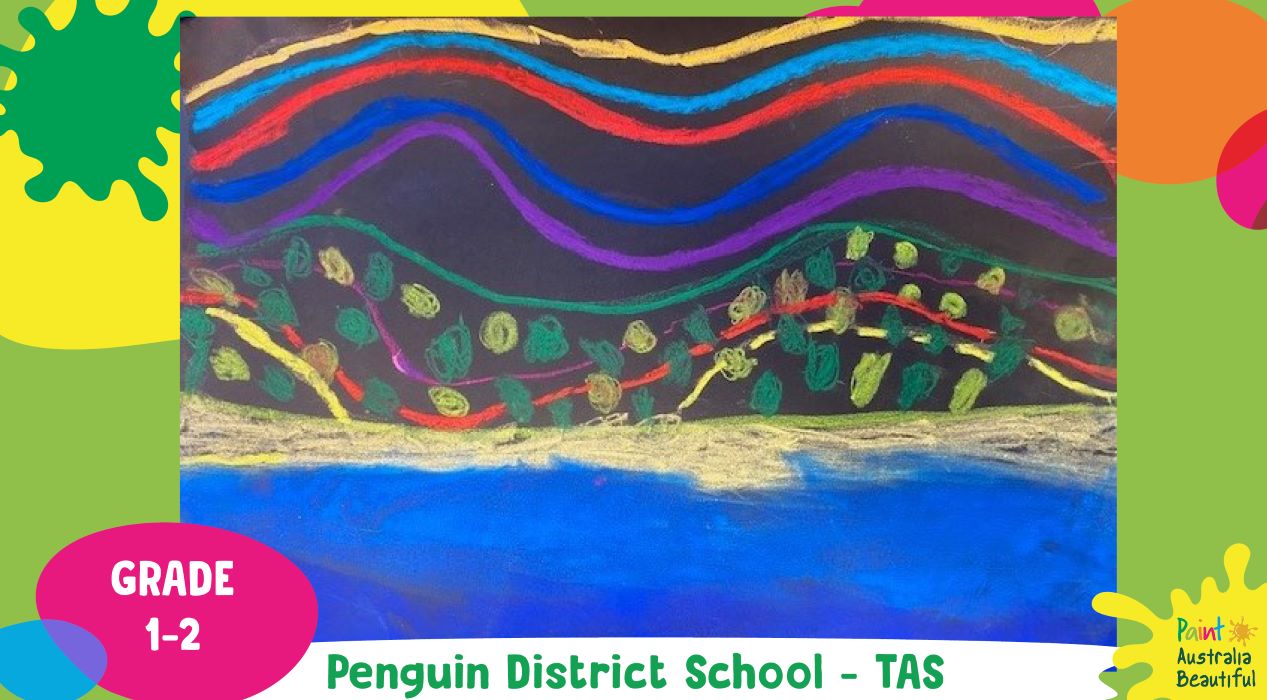 PENGUIN DISTRICT SCHOOL (GRADE 1-2): The children have been investigating the element of line in their weekly art class. Part of our investigation was looking at line in nature. We looked at various art works including a local indigenous artist for inspiration. We discussed the importance of our connection to where we live and the children expressed how lucky we are here in Penguin School to have the ocean, beach, bushland and iconic Dial Range Mountains surrounding us. We have just moved into a new school with a spectacular view looking over the ocean from on top of a hill. We discussed how important it is to care and nurture our special place. Using line as a focus they used chalk pastels to represent these elements of our environment. In contrast to our beautiful surroundings the play pod container currently looks out of place and we hope to beautify it and enhance the playground.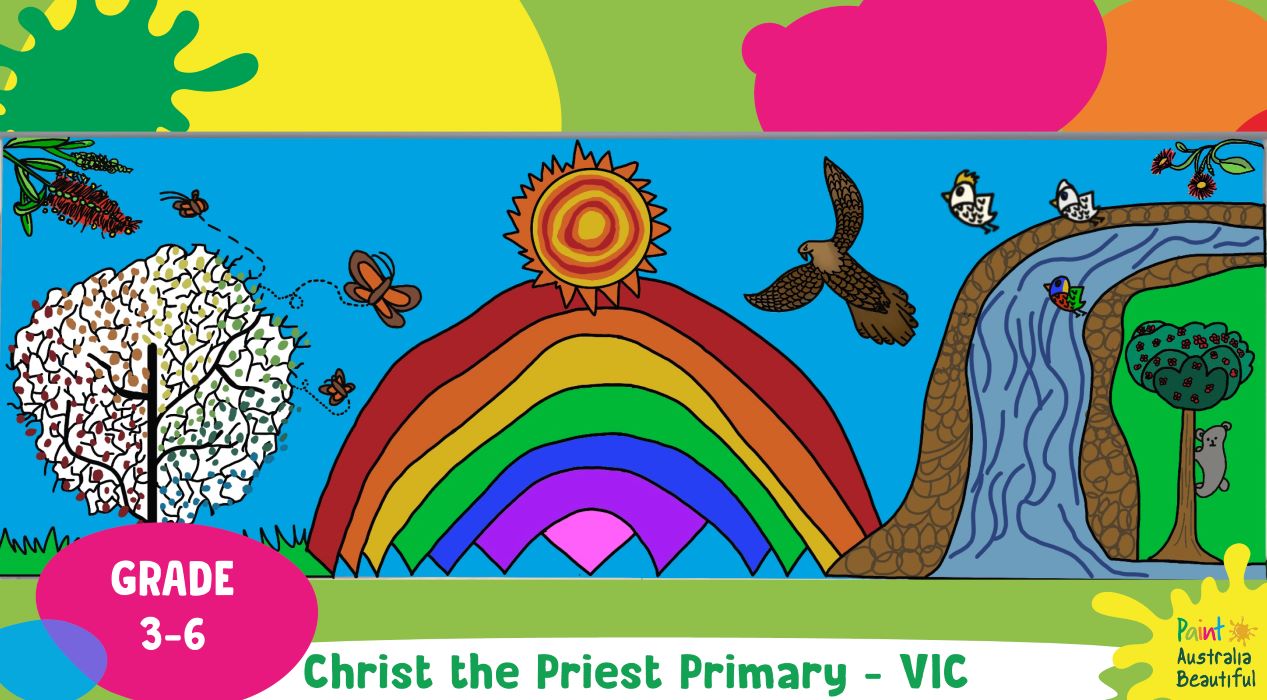 CHRIST THE PRIEST PRIMARY (GRADE 3-6): The design is a collective drawing done by students from Year 3-6 who participate in Art Club every week. Over the weeks we discussed birds and flora that live in our area and students drew lots of designs. Finally it was decided to add a Wedge-Tailed eagle to honour Bunjil, the creator of the Wurundjeri people on which land our school stands, a lorikeet, a yellow-crusted cockatoo and corellas which we have in abundance in Caroline Springs. The butterflies are an endangered species called Eltham Copper butterflies. In the top left and right hand corner students drew a bottle brush and a gum nut tree flower which adorns our street. The sun, rainbow water and trees are all very significant to our community. As Catholics, we believe God created beauty around us not just to admire but to look after and this is in line with the Wurundjeri people.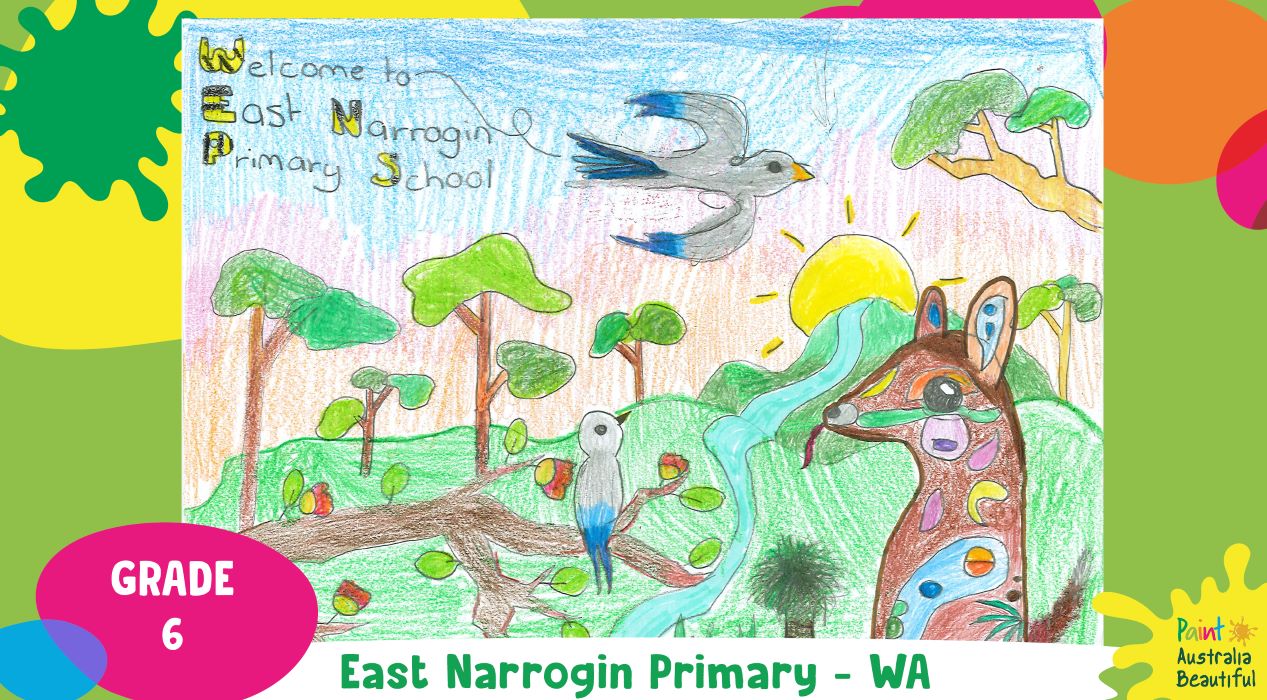 EAST NARROGIN PRIMARY (GRADE 6): This is a representation of our school and surrounding areas, with native flora and fauna. Our school logo is of the sun coming up over our town that is between two hills. East Narrogin Primary school is well represented by our Noongar community and we value providing all our students with connection to land. This project is a continuation of our Noongar garden and creating a space for students and the wider community to embrace their pride and culture. Our school is rebranding and focussing on growth. Improving our physical environment will help in promoting our school and creating a stronger sense of belonging for our school community. Allowing our students to be involved in a project from the beginning and following it through the full process provides pride and empowerment.
Unfortunately we didn't get any entries from you this year!
Now you have a WHOLE year to think of something GREAT!
SO W

HAT's

NEXT?
You VOTED & helped us PICK A WINNER for each State and Territory.
These 6 WINNERS have recieved $750 worth of paint and supplies from Haymes Paint to complete their masterpieces.
Now they have until 28th July to complete their murals, and take photos of the completed walls for us to put back to you for a PUBLIC VOTE. So sit tight and let's see what these budding little artists produce!
Upon completion of these murals, the winning schools will be presented with a Winners Plaque & a $500 Cash Donation for their school.
Those winning schools will then get the CHANCE to take out the Overall National Prize of $2000!*
THANK YOU & GOOD LUCK.
*Terms & Conditions Apply
KAB has partnered with Haymes Paint as a major sponsor to help eight lucky primary schools, one from each state and territory, to bring their mural to life.
"WE WANT TO MAKE PRIMARY SCHOOLS ACROSS AUSTRALIA COLOURFUL AND INSPIRE CREATIVITY AND COLLABORATION!"
Learn more about what makes Haymes Paint such a Great Australian Brand and why they want to lead the way in supporting primary schools and the environment.
WANT TO REGISTER FOR NEXT YEAR…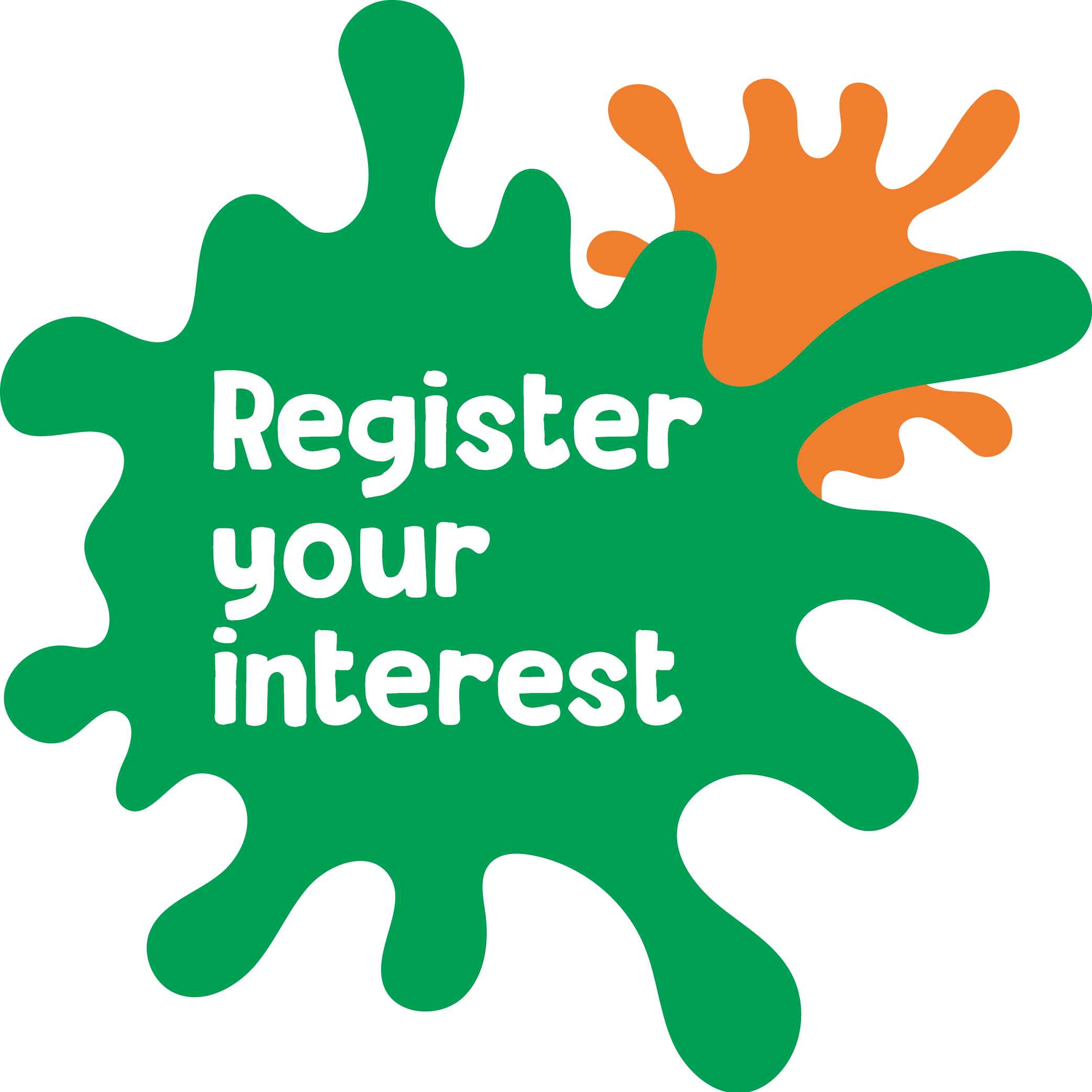 Register your interest TODAY to stay up to date with the latest #PaintAustraliaBeautiful information.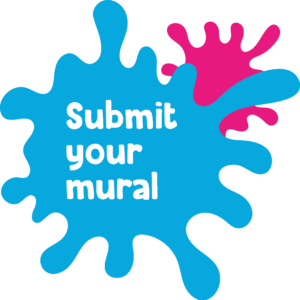 Ready to submit your primary school's #PaintAustraliaBeautiful Mural?
Fill in your application and upload your proposed mural design and your wall of choice. From 8 Feb 2023.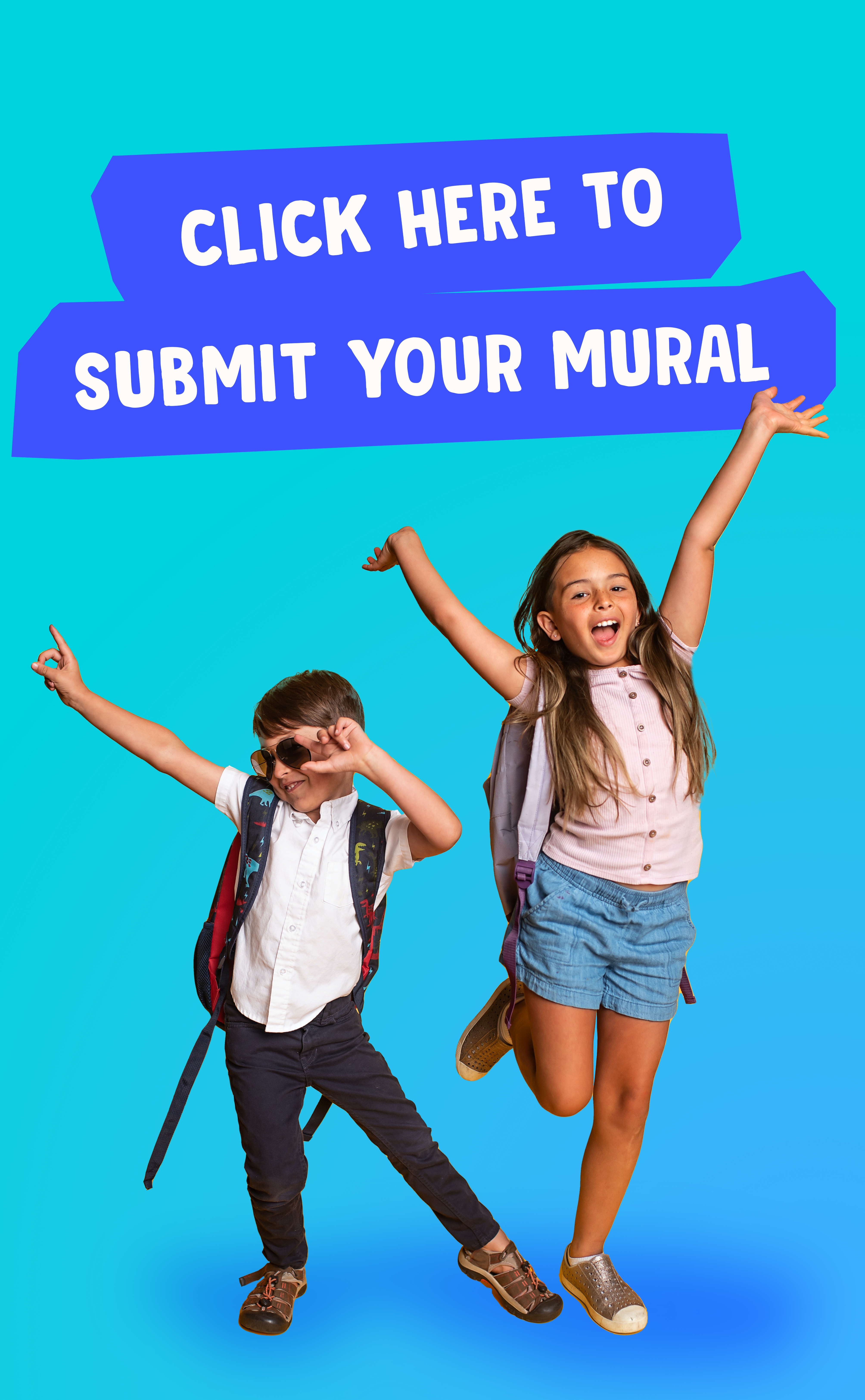 *Terms and conditions apply: Competition open to all Australian primary schools (Registrants must be aged 18 years or over and have permission from the school to register). By submitting an entry, participants agree to the use of their name, video and/or image in any publicity material. Competition open from 8 February 2023 – 6 April 2023 at 5pm AEDT. Limit of one entry per school. Shortlist announced 20 April 2023. Public voting open from 20 April – 7 May 2023 5pm AEDT. Winners announced 10 May 2023, 5pm AEDT. Paint vouchers supplied mid May 2023. Deadline for completed murals 28 July. Read full terms and conditions.
ARE YOU AN ECO-SCHOOL?
GOOD NEWS! If you are an Eco-School, or are thinking about joining Eco-Schools, the Paint Australia Beautiful Campaign will count towards your accreditation as part of the "INFORMING & INVOLVING" step. Learn More.
WHAT IS ECO-SCHOOLS?
Eco-Schools is the largest global sustainable schools program. Founded in 1994, it operates in 70 countries and engages 19.5 million young people globally.
The Eco-Schools program uses engaging, next generation action-based learning in a simple, seven step framework that guides, empowers and motivates pupils to drive change and improve environmental awareness in their school, local community and beyond. Learn More.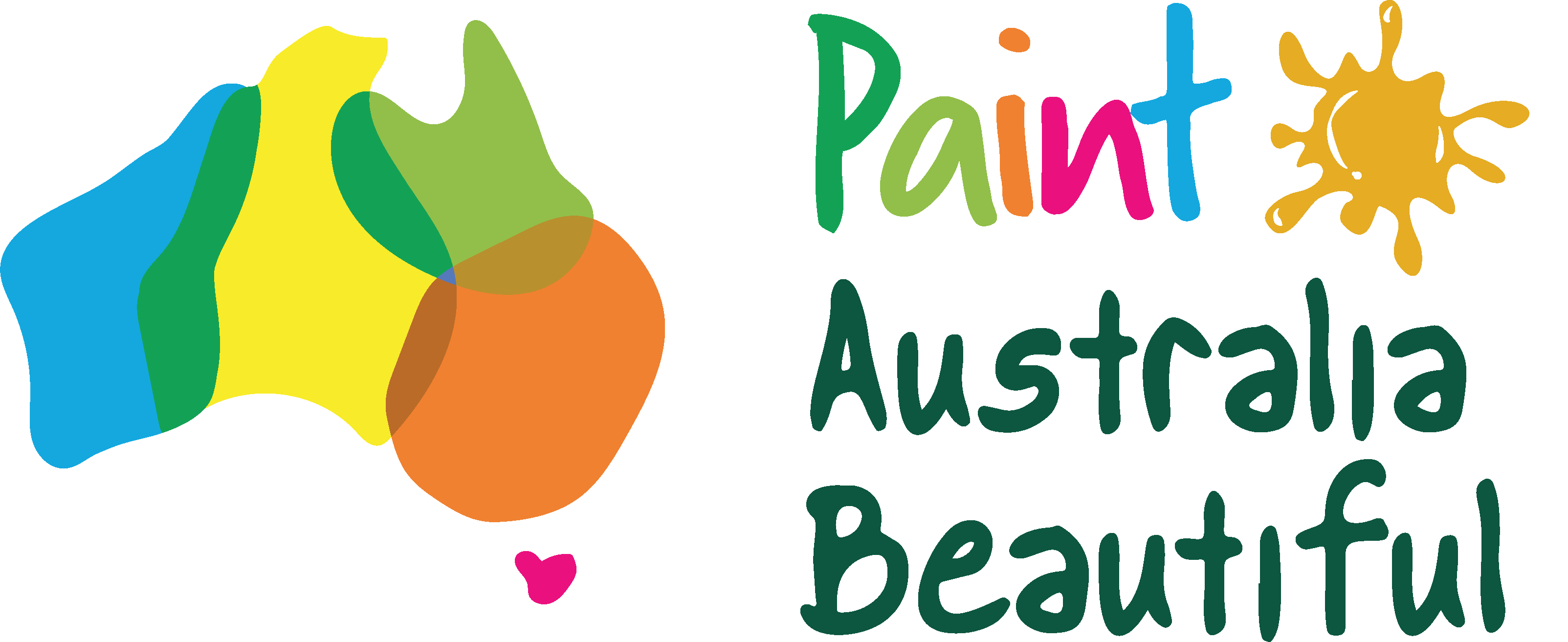 Paint Australia Beautiful Media Release
KEEP AUSTRALIA BEAUTIFUL AND HAYMES PAINT CALL ON PRIMARY SCHOOLS TO 'PAINT AUSTRALIA BEAUTIFUL'! 
Keep Australia Beautiful (KAB) nurtures and finds new ways to care for our environment and educate the next generation.  In 2023 KAB, in partnership with Haymes Paint, will run the inaugural Paint Australia Beautiful competition, engaging primary schools nationally.  Paint Australia Beautiful was created to inspire children to think more deeply about how they can care for the environment and express their vision through a mural art project. Read more…